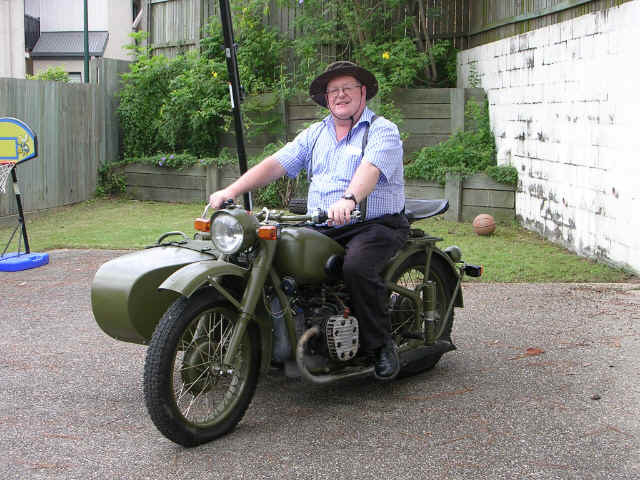 The long forty-first year on the trail:
In the previous post, my wife had pretty well confirmed that it was God's will for me to get back into motorcycling.
The month of revelation:
I returned to Hong Kong to teach Summer school in July 2004 and found the pastor of our church was away on holidays and a visiting speaker named Jackie Pullinger was preaching for the four weeks I was in town. On two of those Sundays, she pointed to me and called me out to the front of the church as one of the young Chinese men on her team had a "word from the Lord" for me. The words were given in Chinese but translated into English for me. The first word was, "I see a vision of a bell, but the focus is not on the whole bell but on the moving part that strikes against the main body of the bell so that it makes the ringing sound." Although nobody in that church had any possible way of knowing about it, in the late sixties I had used the
noms de plume
"Clanger" and "Dinger" both based on my never-used middle name of "Bell" when writing articles about motorbikes and sidecars for papers and magazines. Both names had become my nicknames in the motorcycling community, especially during my years at Ballarat Rovers Motor Cycle Club where I had performed as a stunt rider during the late sixties. So the word from the Lord seemed to be pointing me back towards those early motorcycling days.
A week later, I was called to the front of the church again, and a different young Chinese guy spoke the words, "I see a white rippled board like the ones ladies used long ago while washing their clothes; it has a frame around it and the rippled board is made of pine wood instead of the usual metal and it is much larger than a normal one. But nobody is washing with it; it is just being held up high in the air." Again there is no feasible way anyone in that church could have known about it, but back in the late sixties a white, pine-wood, oversized washing-board had been one of the props used by me in one of the acts performed by our motorcycle stunt team. Talk about goose bumps! I had not sought out these words from God; they were just given to me out of the blue as it were. I was very clearly being called back into motorcycling. And writing about motorcycling. At my age, I doubt that I shall go back into stunt riding!
It was now exactly forty years since I first had that dream of getting the side-valve boxer-twin motorbike.
The months of researching:
The salary from teaching the Summer school was sufficient to purchase a newly restored Chang Jiang motorcycle and sidecar.
At the end of July I traveled to Australia again to visit my family. Upon returning to Hong Kong in August, I started serious research about how to purchase my CJ. I used e-mail to contact all of the vendors then listed as sponsors on the
CJU
web site. I also contacted several other vendors that I had located by Googling the Internet. Only four or five vendors actually responded, so that narrowed the field. I recalled that Simon had given me the mobile phone number of the vendor from which he had purchased his black bike,
Long River Motorworks
in Beijing. I rang Gerald a few times and had some long talks and asked a lot of questions which he answered expertly and well. Above all, the impression I had of Gerald was that he was very honest. After a lot of e-mail exchanges to sort out the nitty gritty details, I transferred about half the cost of the bike into his bank account as a deposit, and ordered the bike. Gerald's quotation had been almost US$1,000 higher than the cheapest quote I had received, but I wanted a quality job from someone who knew what they were doing. I had also rung the vendor whose quote had been the cheapest, but very quickly worked out that he knew almost nothing about mechanical matters in general or motorbikes in particular. He also seemed not to know or care about learning the requirements for shipping a sidecar outfit to Australia.
Restoration and building begins:
Gerald started on my bike in November 2004. I delayed its production considerably when I demanded that the sidecar body and other sheet metalwork should be heavyweight military grade rather than the lighter weight sheet metal usually used for replica vintage parts. The factory would not fabricate the heavyweight sidecar body until it had twenty confirmed orders, so the building of my bike made slow progress. In January 2005 I went to Beijing to have a look at my bike - see earlier posts in this blog. Other delays were caused by me deciding what spare parts I wanted to order with the bike, and then waiting for the Australian Government to issue the Vehicle Import Certificate which MUST be issued before the bike could be shipped. I transferred the remainder of the purchase price, the cost of extra spares, and the shipping charges to my vendor's account.
The bike's long journey to Australia:
About June or July 2005, the bike was collected from the LRM factory by the shipping company.
The shipping company had delays while waiting for a complete load to send to Australia and for ships with enough spare cargo room to make it all the way to Australia. When the ship arrived in Sydney it was held up there by an industrial strike for more than a month.
"All good things come to he who waits" says the old proverb, but it seemed to take forever. I had to return to work in Hong Kong in mid-August after waiting in Brisbane for my bike to arrive since June. It was September before my customs agent had actually cleared the bike and delivered it to my house in Brisbane. So the bike sat in the shed untouched until I arrived home for an unscheduled visit in October and November.
Picture above right
shows me meeting my bike in Australia for the first time.
The bike was finally registered on 13th November 2005.
What a long strange trail it had been!